LED Power Mask
slctvrnt:--:20455067123770,20455067189306,20455067222074,20455067320378,20455067353146,20455067385914,20455067418682:|~|:shwqty:--:true:|~|:qty:--:1:|~|:prdurl:--:https://embassystore.com/cart:|~|:prdimgtp:--:variant:|~|:prdclass:--:ba-6782993:|~|:prdbtnltp:--:cart:|~|:prdbtnelt:--:_self:|~|:prdbtncpt:--:BUY NOW!:|~|:prdbtnclass:--:zpa-button-full-width bcss-6782993:|~|:prdbdhtml:--:

PRODUCT NOT SOLD IN STORES!

LED Power Masks were inspired by the Asian Streetwear Movement, we are now bringing this HypeBeast Mask to the United States and other Top Countries!




This LED Mask is perfect for:

1. Taking elite photos for personal us

2. Stand out from the crowd at raves

3. Even use it for Halloween




5 Main Features:

1. Our advanced LED Lights are woven into the mask allowing the mask to be more durable and longer lasting.




2. 

The LED lights do not affect eyesight as the lights are on the opposite side of the mask.




3. 

Get up to 7 hours of use at the brightest capacity setting.




4. 

Our Adjustable Nylon Strap allows you to easily adjust this mask for small, medium, and large sized heads.




5. 

Two AA batteries are required for operation (batteries not included).

:|~|:mcontclstclass:--:cluster-padding-medium cac-6782994:|~|:mcontclass:--:zpa-plain-product-022-v2 ba-6782994:|~|:imgpos:--:left:|~|:handle:--:led-power-mask:|~|:descclass:--:pda-6782993:|~|:crtmsgclass:--:pcma-6782993:|~|:clstid:--:1819222:|~|:brdclass:--:zpa-border-style-none zpa-border-thickness-small ba-6782995:|~|:addcrtmsg:--:Product has been added to cart
FAST SHIPPING
Processing time is 3-5 days, then you can expect the following shipping times:

USA: 2-7 Days
Canada: 15-20 Days
UK: 15-25 Days
Rest of the World: 2-6 Weeks
* ALL ORDERS COME WITH TRACKING NUMBERS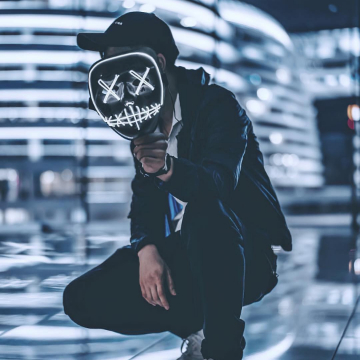 100% SATISFACTION GUARANTEED
We take pride in delivering 'Grade A' craftsmanship. That is why we inspect all orders prior to shipping them to ensure all items meet quality standards. In the Rare case of a faulty item, contact us and we will assist you immediately. 
You may contact us directly on Instagram or via email.
OTHER PRODUCTS YOU MIGHT LIKE
slctvrnt:--::|~|:shwqty:--:false:|~|:qty:--:1:|~|:prdurl:--:#:|~|:prdttlclass:--:pta-6783046:|~|:prdttl:--:Fiber Optic LED Light Up Shoes:|~|:prdimgtp:--:variant:|~|:prdimgalt:--:Fiber Optic LED Light Up Shoes:|~|:prdimg:--:https://cdn.shopify.com/s/files/1/0076/0764/8314/products/pic1.jpg?v=1534913076:|~|:prdclass:--:ba-6783046:|~|:prdbtnltp:--:cart_current_page:|~|:prdbtnelt:--:_self:|~|:prdbtncpt:--:ADD TO CART!:|~|:prdbtnclass:--:zpa-button-medium bcss-6783046:|~|:handle:--:fiber-optic-led-light-up-shoes:|~|:crtmsgclass:--:pcma-6783046:|~|:brdclass:--:zpa-border-style-none zpa-border-thickness-small ba-6783045:|~|:addcrtmsg:--:Product has been added to cart slctvrnt:--::|~|:shwqty:--:true:|~|:qty:--:1:|~|:prdurl:--:#:|~|:prdttlclass:--:pta-6783043:|~|:prdttl:--:Autumn Tree Hoodie:|~|:prdimgtp:--:variant:|~|:prdimgalt:--:Autumn Tree Hoodie:|~|:prdimg:--:https://cdn.shopify.com/s/files/1/0076/0764/8314/products/v--20066792__1929563466.jpg?v=1526289709:|~|:prdclass:--:ba-6783043:|~|:prdbtnltp:--:cart_current_page:|~|:prdbtnelt:--:_self:|~|:prdbtncpt:--:ADD TO CART!:|~|:prdbtnclass:--:zpa-button-medium bcss-6783043:|~|:handle:--:autumn-tree-hoodie:|~|:crtmsgclass:--:pcma-6783043:|~|:brdclass:--:zpa-border-style-none zpa-border-thickness-small ba-6783047:|~|:addcrtmsg:--:Product has been added to cart slctvrnt:--::|~|:shwqty:--:true:|~|:qty:--:1:|~|:prdurl:--:#:|~|:prdttlclass:--:pta-6783042:|~|:prdttl:--:Plan of Salvation Hooded Blanket:|~|:prdimgtp:--:variant:|~|:prdimgalt:--:Plan of Salvation Hooded Blanket:|~|:prdimg:--:https://cdn.shopify.com/s/files/1/0076/0764/8314/products/front_1_cc7633b7-661a-4107-a318-0c0e3ca2e1eb.jpg?v=1526405271:|~|:prdclass:--:ba-6783042:|~|:prdbtnltp:--:cart_current_page:|~|:prdbtnelt:--:_self:|~|:prdbtncpt:--:ADD TO CART!:|~|:prdbtnclass:--:zpa-button-medium bcss-6783042:|~|:handle:--:plan-of-salvation-hooded-blanket:|~|:crtmsgclass:--:pcma-6783042:|~|:brdclass:--:zpa-border-style-none zpa-border-thickness-small ba-6783044:|~|:addcrtmsg:--:Product has been added to cart
:|zpendofcontent|: